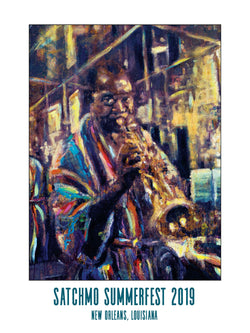 French Quarter Festivals, Inc.
2019 Satchmo SummerFest Poster
Artist:  Ayo Scott
French Quarter Festivals, Inc. proudly announces the 2019 Satchmo SummerFest poster artist, Ayo Scott. A native New Orleanian, Scott graduated from Xavier University in 2003 and attended graduate school at The Institute of Design in Chicago. Immediately after Hurricane Katrina, he returned home to help the city rebuild. During that time, he started NOYO Designs Inc. and began to evolve from commercial graphic design work to making his own art. "It is my profound honor to be chosen as the official poster artist for this year's Satchmo SummerFest artist and have the chance to pay tribute to a musical legacy," said Scott.
"When looking at the impact of jazz on music and music on the world, Louis Armstrong may be the single most influential person to be born in New Orleans," Scott said. "I'm humbled to be able to create a tribute to such a man. I'm excited to share 'Reflections of King Louie', the 2019 Satchmo SummerFest Poster."
Editions:
Numbered Silkscreen Prints, $35
Artist Proof Prints, $55
Size: 18x24 (standard poster size)