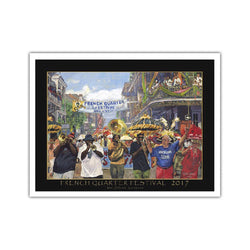 French Quarter Festivals, Inc.
2017 French Quarter Festival Poster
 Artist:  Tony Green

Tony Green was born in Naples, Italy in 1954. His family soon moved to the United States settling in Louisiana on New Orleans' West Bank where Tony spent his childhood. After studying Fine Arts in college, Tony Green continued to travel and study all over the world including two years in Brugge, Belgium and one year in Ghana, West Africa. In 1982, Green returned to Italy to continue painting and musical pursuits, setting up part-time residence in Venice, an annual tradition that still continues today. Green's is greatly influenced by Europe's masters of painting as well as its musical traditions, including that of the gypsy guitarist Django Reinhardt.
Besides Tony Green's many murals that adorn the city of New Orleans and his numerous posters designs, Tony Green is also celebrated for his large New Orleans "Second Line" paintings which offer positive messages about humanity. This theme is evident in the 2017 French Quarter Festival poster, which captures the joy and beauty of the festival's opening day parade. 
Signed & Numbered Prints, $55 (Originally $65)
Silkscreen Prints, $40 (Originally $50)
Size: 22" x 30"