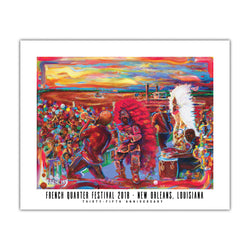 French Quarter Festivals, Inc.
2018 French Quarter Festival Poster
Artist:  Frenchy
French Quarter Festivals, Inc. proudly announces the 2018 French Quarter Festival poster artist, Randy Leo Frechette "Frenchy." Frenchy, a long-time New Orleans resident, draws inspiration from the City's eclectic street and music scene, a theme evident in the 2018 poster. Famous for his paintings of live performances, Frenchy's artistry-in-motion has previously been experienced at French Quarter Festival where, in an unofficial capacity, he has transformed the audio energy of the riverfront stages into visual works of art.

In addition to being well-known among local musicians, Frenchy held the title of official artist of the New Orleans Saints from 2001-2007 and the New Orleans Hornets from 2004-2006.

For the 2018 French Quarter Festival poster, Frenchy pays homage to a range of genres and Louisiana musicians. The painting, which captures the energy and beauty of the Abita Beer Stage, features vivid colors and a collage of beloved cultural icons. As French Quarter Festival celebrates its 35 birthday during New Orleans Tricentennial, the poster turns this banner year into something timeless and tangible. During the April 12-15 event, fans can meet the artist in his booth in Jackson Square. Frenchy can also often be found at his gallery at 8314 Oak Street, beside the famous Maple Leaf Bar and Jacques-Imo's Café.
Editions:
1,000 Silkscreen Prints, $35
500 Signed & Numbered Artist Proofs, $55 (originally $95)
Size: 27 x 22