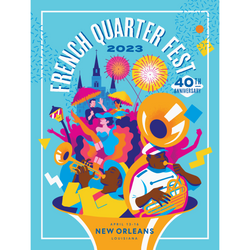 French Quarter Festivals, Inc.
2023 French Quarter Festival Poster
The French Quarter Festival's 40th anniversary official poster features a celebratory scene in honor of four decades of music, food and fun in the historic French Quarter. Created by Scott Hodgin and the team at Tilt Studio, the poster invokes the festive atmosphere of a community gathered to honor and enjoy New Orleans' cultural traditions.  With stylistic nods to our 1980s roots and a few 'easter eggs' that discerning long-time fans might notice, the poster references our history while recognizing that it is the people who make French Quarter Festival so special.

Poster Artwork by TILT Creative Studio.
Limited edition numbered prints.
Size: 18 inches wide x 24 inches high