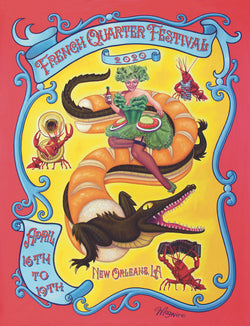 French Quarter Festivals, Inc.
2020 French Quarter Festival Poster
Official Poster Artist: Molly McGuire
Size: 18" x 24"
Silkscreen Prints:  $45 
Artist Proofs (signed and numbered): $65 
Artist Molly McGuire, known professionally as Magwire, was originally born in Ontario. Molly found herself drawn to New Orleans after spending 20 years on the road performing with a rock band. Intrigued by carnival and amusement park culture, Molly centers her art on creating circus-style banners. The themes of Molly's paintings are based on local legends, southern culture, folklore and mythology. 
"I am a classic example of someone who came to New Orleans to check out the music scene and ended up moving here as a result. Not only was the music on another level than anywhere I'd ever been, but it was everything else that New Orleans has to offer that made the experience so influential - the food, the people, the architecture, the history and diverse culture of the city instilled an overwhelming sense of inspiration that I really do not feel when I'm anywhere else...New Orleans provides me with an abundance of ideas - I am never at a loss for subject matter."