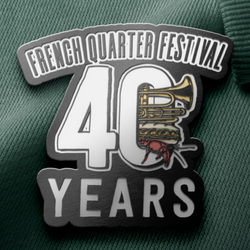 French Quarter Festivals, Inc.
40th Anniversary Lapel Pin
 From a two-day block party in 1984 to a four-day, 20-stage extravaganza of Louisiana culture...French Quarter Festival has been bringing you music, food and FUN for 40 years! 
Snag your limited edition 40th anniversary lapel pin today to proudly declare that you are 'in that number'!
See how FQF has blossomed into the community-building, culture-affirming celebration that it is today in our 40th Anniversary video series.
Size: approximately 1.5 inches wide by 1.5 inches high.
Full color metal with two pins and rubber clutch backing.