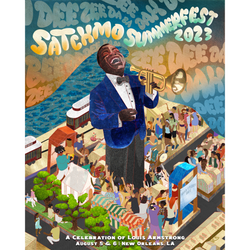 French Quarter Festivals, Inc.
2023 Satchmo SummerFest Poster
The 2023 Satchmo SummerFest poster was created by Koby Sackey, who has also designed promotional posters for the organization since 2021 as well as the 2022 FQF Tank (and the Bangas) lineup poster.
"This image is a wild celebration of an icon, inspired by the electrifying scat singing of legends like Louis Armstrong and Sarah Vaughan. It captures a scene as surreal as scatting itself, where energy is more important than words. Set against the backdrop of the Old US Mint, where Esplanade Avenue meets the majestic river, the poster weaves together stories within the architecture and geography of this iconic location. Immerse yourself in the rhythmic beats, the charming businesses, and the vibrant festival site, as music comes alive within the heart of New Orleans." said Sackey, CEO of Redflare, LLC.
Poster is available in two limited edition versions: 
Numbered prints - $45
Signed & numbered prints - $60 - SOLD OUT
Size: 16 inches wide x 20 inches high
Please note: Order fulfilment will be paused from 8/2/23 - 8/9/23.