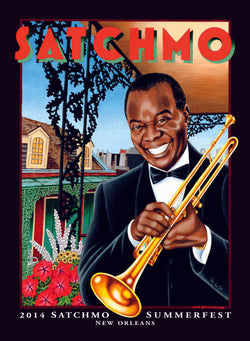 French Quarter Festivals, Inc.
2014 Satchmo SummerFest Poster
Artist: Jane Brewster
Jane studied photos and footage of Armstrong in order to fully capture his positive, upbeat spirit. The poster shows the musician feeling very much at home on a French Quarter balcony. The original painting is acrylic on canvas with a clear satin finish. 

About the artist:
Jane Brewster grew up in the French Quarter. Her family home on Bourbon Street was within earshot of Pete Fountain's French Quarter Inn, making traditional jazz the soundtrack for her childhood. Encouraged by her family to become an artist, Jane earned a B.A. in Graphic Design and Illustration and has freelanced since 1990.
Available in two editions:
Numbered Silkscreen Prints - originally $45, now $35!
Artists Proofs - Signed & Numbered Silkscreen Prints - $65
Size: 22x30