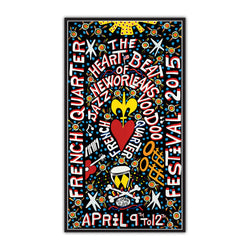 French Quarter Festivals, Inc.
2015 French Quarter Festival Simon Poster
Artist:  Simon Hardeveld

Once again, French Quarter Festival features a special limited-edition poster created by New Orleans' most well-known French folk-art painter, Simon Hardeveld. Since the early 2000s, Hardeveld has entertained many with his hilarious and colorful paintings that hang around New Orleans restaurants like Boulangerie, Chickie Wah Wah, Lola's, and Joey K's. Born in France and later moving to the United States to start three of his own restaurants, with wife Maria Hardeveld, Simon found his true calling to be a painter at his brasserie in Metairie when customers always wanted to buy his signs behind the counter. Most well-known for his set design work on New Orleans evening news, WGNO News with a Twist, Simon has been commissioned by restaurants, stores, locals, and tourists to create special original paintings for anniversaries, birthdays, or just home décor that captures the spirit of New Orleans. Overall, Simon's pieces whimsically embody the unique culture of this spectacular city.
Signed and Numbered Prints, final few: on sale for $35 (originally $85)
Size: 18"x 32"